A cataract is a clouding of the natural lens inside the eye. A cataract is a gradual thickening of the lens that causes the lens to become so clouded that light is either distorted or cannot reach the back of the eye (the retina) for transmission to the brain. When left untreated, cataracts will eventually cause blindness in most cases.
When a cataract has reached the point of interfering with regular daily activities, cataract surgery can be performed in order to restore the vison.
Modern cataract surgery represents one of the most remarkable advances in medical science. It is an extremely safe and rapid procedure. In most cases, cataract surgery restores the vision to a level equal to or better than what it was before the cataract developed.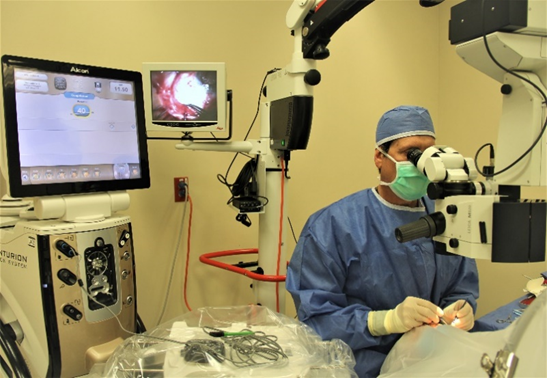 Cataract surgery is a same-day procedure in an outpatient surgery setting. It is performed in an operating room using an operating microscope. In most cases, the surgery can be completed in less than ten minutes with the patient experiencing virtually no discomfort. Patients usually resume regular activities, including driving, the next day.
The procedure involves dissolving the lens of the eye with ultrasound energy and replacing the natural lens with a plastic artificial intraocular lens implant (IOL). After the ultrasound dissolves the lens (phacoemulsification), the IOL is inserted into the capsule where it then unfolds. The IOL is held in place by the capsule itself, which seals around the IOL. The IOL now serves as the new lens of the eye and stays in the eye permanently.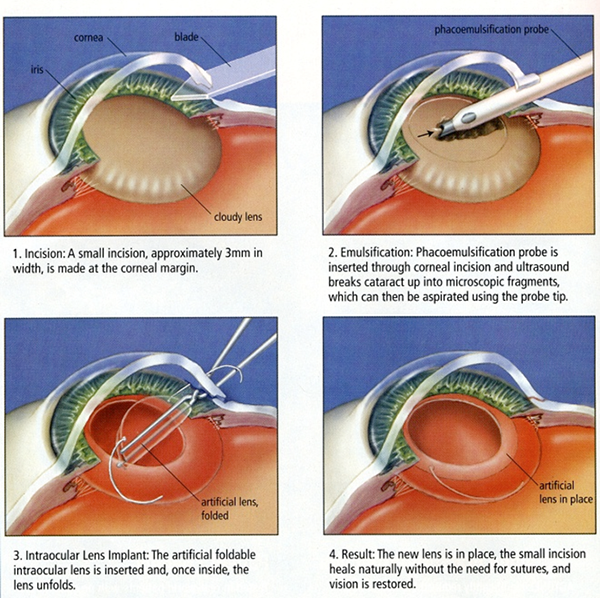 Phacoemulsicaiton and IOL Placement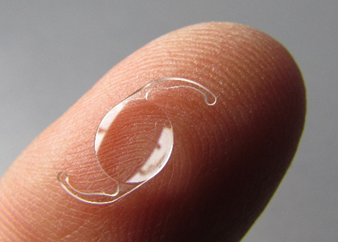 Intraocular Lens Implant (IOL)
As with any surgical procedure, there can be riskswith cataract surgery. Fortunately, these risks are rare and cataract surgery is one of the most successful operations performed.
Cataract surgery is a very individualized procedure, with many optionsavailable for how the eyes will focus after surgery. It is important that patients fully understand the options that are offered to them to make an informed decision on the procedure that is best suited for them.